I've been using the phrase "inbound marketing" a lot lately and drawing a lot of blank stares and confused silences over the phone. I first heard the term used by Hub Spot and it made perfect sense to me; they are describing the "get new clients" part of websites and social media that still eludes so many people.
Its fairly obvious that if people can't find your business quickly and easily when they search online for your kind of product or service, they are probably not going to become your clients. And while price, convenience, location, etc. are all important factors in your prospects' final decision, if you can't show them why you're one of the best at what you do (if not the best), most won't take the initial step of contacting you about your products or services.
Together, these are the essential points of inbound marketing:
Getting found on the right searches
Having compelling material on your site, so that when people do find you, they take the next step(s) in becoming your client – calling, signing up for your newsletter, requesting an estimate or whatever- on their own.
So what makes "compelling material?"
I talk a lot about "making the most of what you already do" as a business when it comes to general website strategy, because I find that many people still look at marketing their business as a mostly separate activity from what their business actually does
Let me demonstrate here, where my digital services meet my analog ones.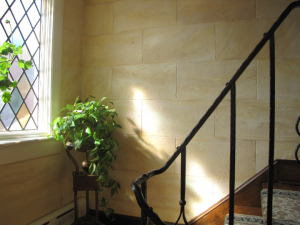 In addition to my website and social media work this year, I've done one faux painting project here in Pittsburgh commensurate with the custom art work I was doing in California a few years ago. I would like to "get found" for more of this work online in Pittsburgh, but at the beginning of the year I ranked nowhere on any relevant search. But rather than pay for ads, or try and get links or mentions on relevant sites, I "made the most" of what I was already doing with faux painting: I took pictures of my work and published them as I blogged the story of my progress.
If that sounds anticlimactic, consider this: I only did three blog posts about the project in February and March, but together they've got me currently listed on the first, second, and third pages of the Google search "faux painting Pittsburgh". You can try it yourself right now in a browser of your choice or check out this annotated screenshot I took two days ago: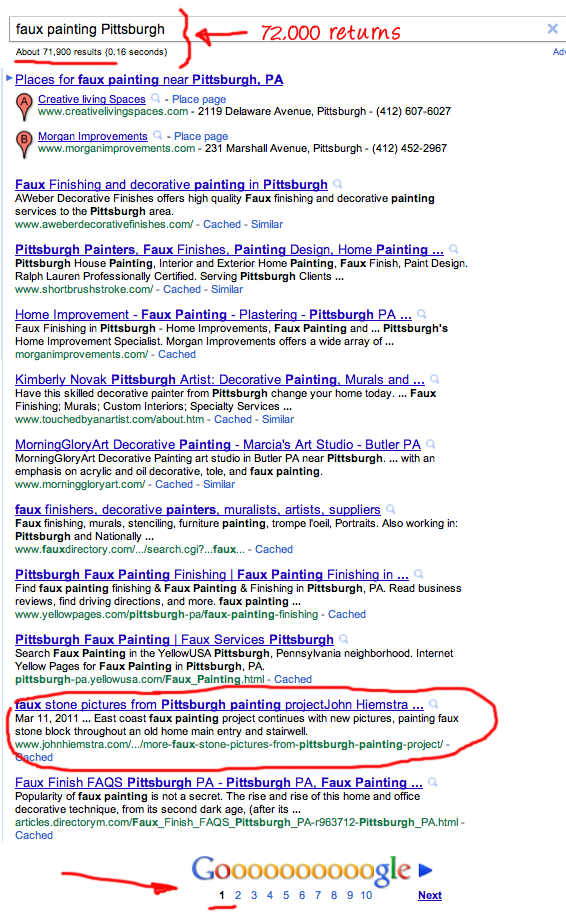 I have maybe a hundred hours into this faux painting project, but the blog posts (without getting into required technical steps to get these results) took maybe an hour each including unloading the camera and sorting/editing pictures. That's it, no outside help, no advertising fees, nothing.
So how does it translate to real clients?
Last week I got my first "out of the blue" email about painting work in Pittsburgh from someone who found me online. And if that sounds anticlimactic, consider this: most of my online art portfolio features older work from my ten years in San Diego, and over the 18 months I've lived in Pittsburgh, I've averaged 4-5 new contacts every month about faux, mural and custom art work from people in San Diego and southern California who've found me through search (I always ask) whether through this blog, my YouTube channel or my custom art Facebook page. It might not seem like that many leads, but since my average contract for these type of projects is around $6000, its more than sufficient. And, except for my recent "archive" updates of old jobs, those calls are from material I posted several months or even years ago. While I've had to flip those southern Cal jobs to my southern Cal artist friends, this is "inbound marketing" firing on all cylinders in a tiny niche market.
Imagine this working in markets with more demand, and you can see why I spend more time working on other people's business websites and social media these days instead of my own!